http://www.theregister.co.uk/2009/06/03/royal_navy_vs_ufos/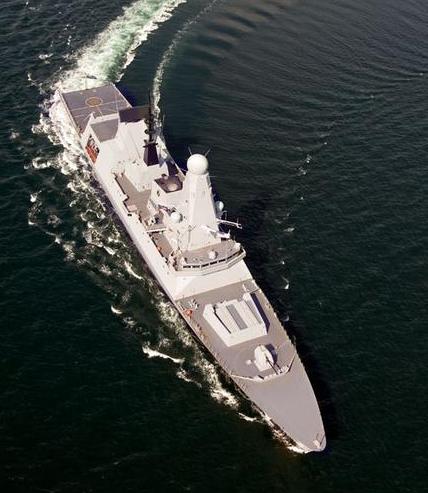 A

Royal Navy warship

may have come within seconds of opening fire on

Unidentified Flying Objects

above Merseyside, possibly narrowly avoiding the precipitation of an interstellar war and the extirpation of humanity by testy aliens.
Reports have it that the

UFO

s - speculated to have been visiting spacecraft from beyond the solar system - were tracked on naval weapons radars.
[...]
So far, so what. But then the Telegraph entered the debate with stunning revelations from "an ex-military source" regarding the presence of

HMS Daring

, a Royal Navy Type 45 destroyer which was docked in Liverpool as the UFOs passed over.
[...]
The Telegraph says that the UFOs were actually "countermeasure flares used to test the radar systems of huge anti-missile guns on the ship".
[...]
The "

Radar countermeasure flares

" notion is plainly poppycock, however. Countermeasure flares are for confusing infrared systems, not radar - though ordinary illumination flares are used occasionally as aiming targets for lighter manually-aimed guns. But you certainly aren't going to start letting off flares over a densely-populated urban area in the UK, so we're staying with the much more credible alien-visitors idea.
So what we've got here is

HMS Daring

tracking extraterrestrial spacecraft, and possibly almost certainly coming within inches of triggering an interstellar invasion by an ill-timed freak accidental firing mishap. That is, in the unlikely event that the rather feeble weapons actually fitted to the navy's newest, billion-pound destroyer were actually able to do any harm.
Read all of it...