http://www.guardian.co.uk/uk/2009/apr/16/police-delete-tourist-photos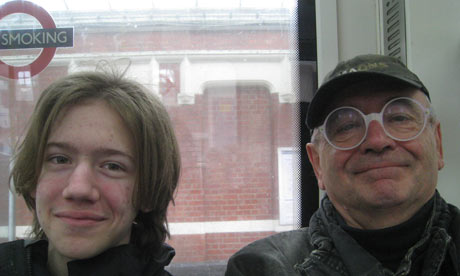 Austrian tourist Klaus Matza and his son who were banned from taking pictures of buses in Walthamstow.
Like most visitors to London, Klaus Matzka and his teenage son Loris took several photographs of some of the city's sights, including the famous red double-decker buses. More unusually perhaps, they also took pictures of the Vauxhall bus station, which Matzka regards as "modern sculpture".
But the tourists have said they had to return home to Vienna without their holiday pictures after two policemen forced them to delete the photographs from their cameras in the name of preventing terrorism. [!!!!!]

Matkza, a 69-year-old retired television cameraman with a taste for modern architecture, was told that photographing anything to do with transport was "strictly forbidden". The policemen also recorded the pair's details, including passport numbers and hotel addresses.
[ADDENDUM!]

Man Detained As Terror Suspect For Photographing Police Car
·Chairman of park society wanted to document police misconduct, but was told he had breached Section 44 of the Terrorism Act.
http://www.prisonplanet.com/man-detained-as-terror-suspect-for-photographing-police-car.html
Despite police claiming that an ambiguous section of the UK Counter Terrorism Act of 2008 would not outlaw taking photographs or film of police, a man was detained as a terror suspect this week simply for taking a photograph of a police car in order to document police misconduct.
62-year-old Malcolm Sleath, who is chairman of his local park society, saw a police car driving erratically down a North London park footpath, despite the fact that by law police are supposed to investigate on foot in such circumstances.
He began filming the police car to document the misconduct so that he could later present it to the chief sergeant.
Sleath was subsequently approached by the two officers in the car and was told he was being detained because he had breached Section 44 of the Terrorism Act.