http://www.opednews.com/articles/Major-9-11-Breakthrough-in-by-Heinrich-Buecker-090425-34.html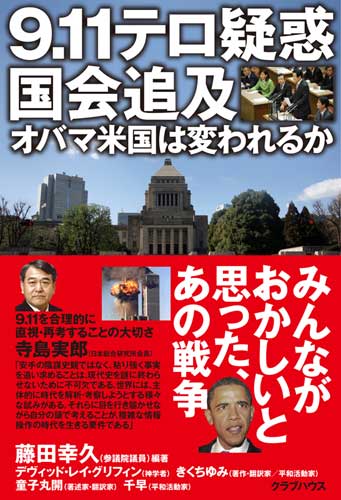 Yukihisa Fujita, a member of the Upper House of the Japanese Parliament has recently published a book titled:

"Questioning 9/11 in Japan's Parliament - Can Obama Change the USA?"
Co-authors are David Ray Griffin, Yumi Kikuchi and Akira Dojimaru.
Councilor Fujita is a current member and former director of the Committee on Foreign Affairs and Defense. In this function he questioned 9/11 three times in parliament. Fujita claims that 9/11 as the main reason for the "War on Terror" needs to be newly investigated in order to find peaceful solutions.
On April 8 there was a formal reception on the ocassion of the publishing of Mr. Fujita's book at the Tokyo Dome Hotel.
[...]
All speakers fully supported Mr. Fujita's efforts emphasizing the importance of the 9/11 questions in the context of the need of peace and reconciliation in Afghanistan and the protection of Japan non-military constitution.
At end of the event a formal greeting adress by opposition and DPJ party leader Ichiro Ozawa was read to the audience in which Ozawa called for Mr Fujita to be persistent in his efforts.
Read more...


Also, members of We are Change UK were at the European Parliament in Brussels to watch the Premiere of Zero, a new film that questions the official version of events on 9/11. A panel of guests were in attendance to answer questions before and after the film. These included David Ray Griffin, Yukisha Fujita MP and Giullietto Chiesa MEP.
David Ray Griffin is one of the leading authors on 9/11, having written 6 books on the subject. His newest book looks at the 25 largest contradictions in the 9/11 Commission Report.
Yukihisa Fujita is a Japanese opposition MP who recently questioned the Japanese Prime Minister about outstanding questions regarding 9/11. This was televised on national television reaching an audience of millions.
Giullietto Chiesa is an Italian MEP and journalist. He is one of the producers of the film Zero and was responsible for the screening in the European Parliament.
Zero. Invetigation Into 9/11