http://www.whatdoesitmean.com/index1298.htm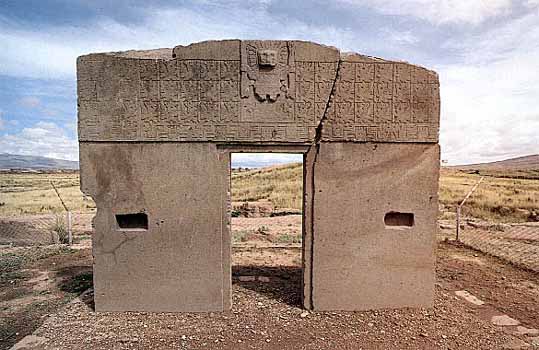 by

Sorcha Faal
An interesting report circulating in the Kremlin is claiming that the massive power blackout that hit South America this past week was due to a 'Time Wave' that emanated from the mysterious Bolivian Andes region called Tiahuanaco, where the mysterious 10 ton 'Gateway of the Sun' monolith -carved from a single block of Andesite granite-

[above, left]

is located, and was 'triggered' by an 'anomalous event' at the World's largest and highest-energy particle accelerator, Large Hadron Collider (LHC)

[above, right]

, in Switzerland run by the European Organization for Nuclear Research (CERN) and 'rippled through' the thousands of ancient pyramid complexes located throughout Brazil and other countries of South America.
According to these reports, the CERN scientists at the Large Hadron Collider began a series of experiments on November 1st (2009) in preparation for the restarting of operations when they 'shockingly' discovered that their testing was distorting the Earth's magnetic field and had shot off a 'Time Wave' towards the core of our Planet that their tracking showed veered exactly towards the 'Sun Gate' high in the Bolivian Andes Mountains.
Most unfortunately, however, was when the initial 'Time Wave' spawned by the LHC erupted from the 'Sun Gate' and headed out towards the space above South America it -literally- glanced into the path of an Iberworld Airbus A330-300 flown by Air Comet which was ready to begin its descent into Santa Cruz, Bolivia but then found itself -instantly and mysteriously- over the skies of Santa Cruz, Spain, over 5,500 miles (8,900 km) away.
[Here's the story on this incident, in spanish...]
· Un avión de Air Comet operado por Iberworld aterriza en TFN

por error

.

http://aviation-blog.com.s38662.gridserver.com/un-avion-de-air-comet-operado-por-iberworld-aterriza-en-tfn-por-error/




Un Airbus A330 de Iberworld subcontratado para Air Comet, presumiblemente aterrizó por error el día 1 de noviembre en Santa Cruz de Tenerife (TFN - Los Rodeos) en lugar de Santa Cruz en Bolivia. El avión con matícula EC-IJH debía realizar el vuelo A7-301 y transportaba 170 pasajeros que embarcaron en el aeropuerto de Madrid Barajas.

Tras 17 horas de escala, el avión partió con destino Bolivia. Los pasajeros informaron que la tripulación no ofreció ninguna explicación, lo que hizo sospechar que ésta confundió Santa Cruz en Bolivia con Santa Cruz de Tenerife.

BRASIL DENIEGA EL SOBREVUELO A AIR COMET

Por otra parte el vuelo A7-39 de Air Comet que despegó de Madrid con destino Buenos Aires, con 270 pasajeros a bordo, recibió la negativa de las autoridades brasileñas para sobrevolar su espacio aéreo, obligando a la tripulación a volver a Madrid, donde aterrizó 11 horas después.

La aerolínea informó de que estaban en posesión de toda la documentación necesaria para sobrevolar Brasil, sin embargo debido a fallos de coordinación y por razones de seguridad fue necesario volver a España.

Fuentes en España y Brasil sugieren que el incidente fue resultado de problemas burocráticos. Air Comet ha acumulado una sustancial deuda con el gobierno brasileño por el impago de tasas aéreas y ha fallado en varias ocasiones en su compromiso de pago de la deuda.

El avión EC-KXB partió de nuevo al día siguiente con el indicativo A7-41 con un retraso de 26 horas y realizando una escala intermedia en Lima (Perú), para evitar el espacio aéreo de Brasil.

[Fuente:

aviation-blog.com.s38662.gridserver.com

]
After this mysterious event, CERN scientists shut down the LHC blaming their failed experiment on a bird dropping a piece of bread onto outdoor machinery, after which their Director for Research and Scientific Computing, Sergio Bertolucci, warned that the titanic LHC machine may possibly create or discover previously unimagined scientific phenomena, or 'unknown unknowns' such as an 'extra dimension'.
But, even after shutting down the LHC the 'dimensional distortions' created in South America by this 'Time Wave' continued to be felt, and led to the 'Gateway of the Sun' monolith sending out, what Russian scientists have likened to, a 'digital communication' towards the thousands of Pyramids in Brazil and other ancient sites throughout the Andes Region of South America and leading to the massive power outage that plunged tens-of-millions into darkness.
Read more...