[*Proyecto de ley]

For cybersecurity purposes
[!!!]
http://www.webpronews.com/topnews/2009/04/07/bill-lets-obama-turn-off-the-internet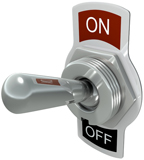 Two bills

introduced

giving the President the power

to

deem a private network part of the nation's critical infrastructure and

shut it down

for cybersecurity reasons also

gives the Commerce Secretary the power to access network data outside of oversight

.

The Big Brother vibe coming off both is reminiscent of a demanding report submitted before Obama even took office. About a month after Election Day, the Center for Strategic and International Studies (CSIS) issued a report called

Securing Cyberspace for the 44th President

[!!!]

.

Heard of the military-industrial complex? The CSIS is likely where they meet to carpool.

The recommendations in the report, ignored by the previous administration, are sweeping and demanding.

The principle minds behind it hailed from the CIA, the US Navy, Microsoft, Sun, AT&T, ICANN, Lockheed Martin, Cisco, and GE

—among a slew of others—and likely those minds felt confident they'd get a more sympathetic ear from the new President. And they were likely right. They'd get that from Congress, too.

[!!!!!]



Read more...