http://www.guardian.co.uk/environment/2009/may/21/active-house-denmark-zero-carbon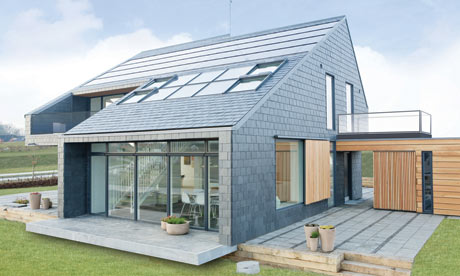 Solar panels warm underfloor heating. Fifty square metres of solar cells generate electricity. Computer-controlled windows automatically regulate internal temperature.
This is the last place you would expect to find the solar-powered home of the future. Lystrup, a suburb of Denmark's second city, Aarhus, is grey from street to sky. The spring sun, hidden behind a bank of clouds that doesn't break once on my week- long visit, barely seems strong enough to run a pocket calculator, let alone meet the energy needs of a family of four. But it is here that a dream of zero-carbon living is being realised.
The world's first Active House stands at the crest of an estate. Its south-facing roof is covered in solar panels and solar cells, which between them harness more than enough power to keep the occupants warm and the appliances running. In around 30 years' time, if designers have got their sums right, the excess electricity flowing from the house into Denmark's grid will have cancelled out the energy costs of building it, leaving a non-existent footprint on the earth's resources.
[...]
Rikke Lildholdt, project manager for the Active House, shows me round. "Many people have the idea that if it's ecological, it must be difficult; you have to grow your own vegetables or whatever," she says. "This is about living a comfortable life in a house that produces more energy than it uses."
Read more...