·Climate change activist taped men who offered cash for information about group's members and activities.
http://www.guardian.co.uk/uk/2009/apr/24/strathclyde-police-plane-stupid-recruit-spy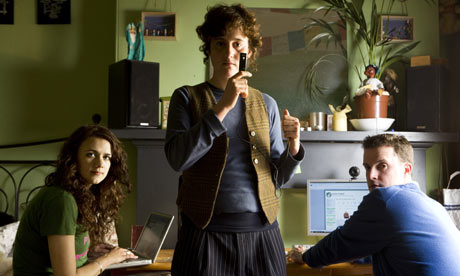 [Juliana Napier, Tilly Gifford and Dan Glass with some of the recording equipment they used.]

Undercover police are running a network of hundreds of informants inside protest organisations who secretly feed them intelligence in return for cash, according to evidence handed to the Guardian.
They claim to have infiltrated a number of environmental groups and said they are receiving information about leaders, tactics and plans of future demonstrations.
The dramatic disclosures are revealed in almost three hours of secretly recorded discussions between covert officers claiming to be from Strathclyde police, and an activist from the protest group Plane Stupid, whom the officers attempted to recruit as a paid spy after she had been released on bail following a demonstration at Aberdeen airport last month.
[To find the downloadable recordings, click underneath; and if you go straight to the transcripts, you'll read things like,]